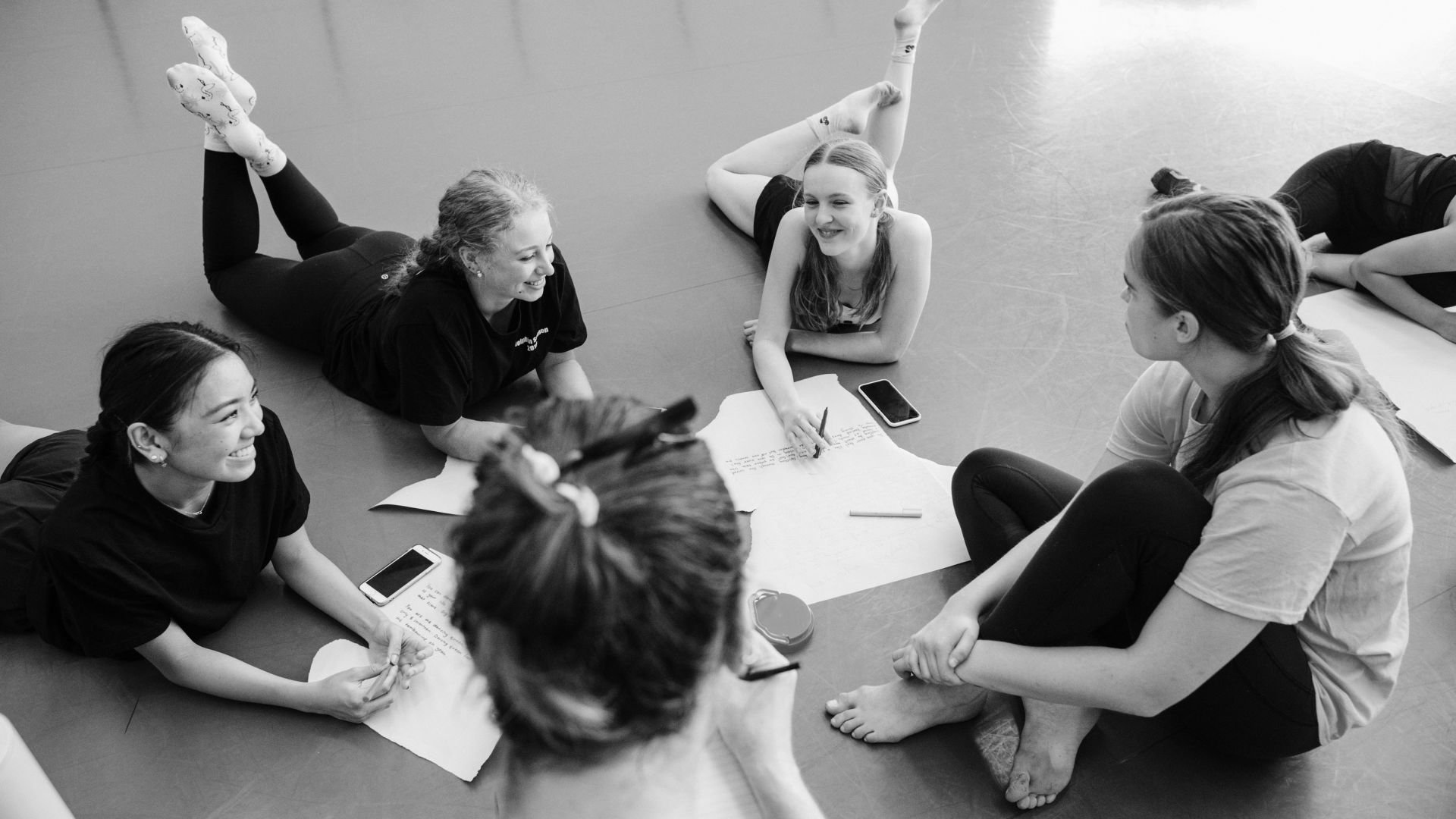 School Workshops
Australasian Dance Collective offers schools contemporary dance workshops throughout the year by request
Our workshops can be held at your school, or in our studios at The Judith Wright Arts Centre (subject to availability).
Workshops can be tailored to your needs - aligning with the current assessment or curriculum tasks of your class, and catering to a range of skill levels. Our workshops can range from 1-2 hours and are run by our highly experienced professional contemporary dancers.
We will work with you to create and plan the perfect workshop for your students.
Contact us
Workshops Available
#Workshop Types
ADC provides a range of workshops to teachers and students in the areas of technique, choreography, improvisation, repertoire, contact duo work and dance and technology.
Contemporary Technique /
Contemporary Technique workshops give your students an opportunity to focus on their alignment, strength and dynamic control, as well as safe floor work and spinal articulation.
Contemporary Repertoire /
Contemporary Repertoire workshops provide students with the opportunity to learn a short piece of choreography from either ADC's established repertoire or from repertoire currently in development.
Choreography /
Choreography workshops ensure students are taught multiple choreographic methods and skills in order to create their own contemporary dance works.
Contact and Duo /
Contact and duo workshops introduce students to contact improvisation and working collaboratively in pairs. These workshops provide students with the necessary skills to practice and perform contemporary dance in a safe and professional learning environment. These workshops require two ADC teaching artists.
Improvisation /
Improvisation workshops give students tools to improvise in movement and think creatively on the spot.
Dance and Technology /
Dance and Technology tailored workshops focus on the creation of dance for film. Lighting, projection, filming techniques, sound and costuming are covered in these tailored workshops which help students transform their ideas into dance films.

Please note, Dance and Technology workshops are only available via zoom sessions for your students. Travel fees do not apply.
Workshop Fees
Maximum of 22 Students - 1 ADC Teaching Artist
/ 60-minute Workshop - $350.00
/ 120-minute Workshop - $450.00

Maximum of 30 Students – 2 ADC Teaching Artists
/ 60-Minute Workshop - $450.00
/ 90-Minute Workshop - $500.00
/ 120-Minute Workshop - $550.00

All workshops with more than 22 students require 2 ADC Teaching Artists. All partnering / Contact Duo Workshops require 2 ADC Teaching Artists and a minimum timeframe of 90 minutes.

A travel fee is calculated upon application and will be added to the Workshop Rate. The point of origin for all travel is the ADC Offices based in the Judith Wright Arts Centre, Brunswick St, Fortitude Valley.
Maximum of 30 Students

1 Hour Observation including Q&A with ADC company artists and either Artistic or Rehearsal Directors and 1 Hour Workshop led by one of ADC's company artists

/ 120-minute Workshop - $580.00

All In-Studio workshops are by request and are based on the availability and suitability of the company.
#Want to customise your workshop?
If you would like to customise your workshop to your classroom needs, please feel free to contact us and we can arrange a tailored quote.
We acknowledge the First Nations people as the Traditional Owners of Meanjin (Brisbane).
In the spirit of reconciliation Australasian Dance Collective acknowledges the Traditional Custodians of country throughout Australia and their deep connections to land, sea and community. We pay our respect to their elders past and present and extend that respect to all Aboriginal and Torres Strait Islander peoples today.
Click anywhere to continue